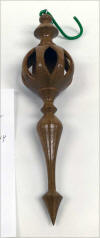 Dan Pfeiffer showed a unique funeral urn with a sharply curved three legged base of the main walnut burl body with a sugar maple outer rim and top. The top mirrored the curved base and was also carved with three arms. On top was a burl cap with a crucifix from a rosary.
James Hampton showed a unique ornament of mahogany in the split turning/inside-out fashion.
Tom Canfield brought a pecan bowl from wood he got at SWAT last year.